DANCING WITH THE STARS, POST-SEASON 24: June 21, 2017
Hi, again, DWTS fans! I have some news and reminders for you.
New Baby:  Last Sunday, Father's Day, former DWTS pro Edyta Sliwinska presented her husband and former DWTS pro Alec Mazo with their second child. A daughter this time: Leia Josephine. The first, three years ago, was son Michael Alexander, who chose the name for his baby sister. Happy family!
"Health Magazine":  Dancing with the Stars Co-Host Erin Andrews is on the cover of the July/August 2017 issue, looking extremely fit and happy. No wonder! The 39-year-old has come out on the bright side of cervical cancer, she's marrying the love of her life this summer, and she may be able to have a baby, after all, because she froze some of her eggs before receiving her cancer diagnosis last year. Go, Erin!
"Little Big Shots":  A recent episode of "Little Big Shots," hosted by Steve Harvey, featured a couple of juvenile ballroom-dance experts from Italy who have danced together for some years. And they're not even 10 years old!  The girl's 8 and the boy's 9. Fantastic and so cute! You may want to find a replay.
New EP:  Mark your calendar for June 26! That's when the new EP by Dancing with the Stars pro Mark Ballas and his wife BC Jean (Alexander Jean) will hit shelves and air! Also, contact your local entertainment venues for tickets if you want to see them in concert with R5!
"World of Dance":  If you love dance in many different forms, you'll LOVE this show. Dancing with the Stars pro Derek Hough is a judge alongside WoD producer Jennifer Lopez and Ne-Yo. 10 p.m., on NBC, right after "America's Got Talent."
Weddings:
This summer:
(1) Peta Murgatroyd and Maksim Chmerkovskiy on July 8.
(2) Julianne Hough and Brooks Laich, the center pro hockey man for Canada's Washington Capitals, on July 8.
(3) Erin Andrews and NHL free agent Jarret Stoll (date undisclosed).
(4) Carrie Ann Inaba and actor Robb Derringer (date undisclosed).
Within the next 12 months?:  Emma Slater and Sasha Farber may wait until next year; Emma said that because so many others are tying the knot this summer, she wants to wait and stand out.
David Ross:  Don't forget David's book, which landed a month ago: "Teammate: My Journey in Baseball and a World Series for the Ages." Available on Amazon.com and probably other large mainstream sources.
Dancing With The Stars Live! Hot Summer Nights Tour:  The first two opening nights, in Atlantic City, were sold out! Get your tickets before they're gone! Here, again, is the list of cities on the performance schedule. If you want to go in your area, get your tickets ASAP and be ready to have a blast!
June 23: Albany, NY (Palace Theatre)
June 24: Hershey, PA (Giant Center)
June 25: Lowell, MA (Lowell Memorial Auditorium)
June 27: White Plains, NY (Westchester County Center)
June 28: Binghamton, NY (Broome County Arena)
June 29: Washington DC (National Harbor)
June 30: Uncasville, CT (Mohegan Sun)
July 1: Uncasville, CT (Mohegan Sun)
July 2: Durham, NC (DPAC)
July 10: Nashville, TN (Grand Ole Opry)
July 11: Louisville, KY (Palace Theatre)
July 12: Huntsville, AL (Von Braun PAC)
July 13: Memphis, TN (Orpheum)
July 14: Shreveport, LA (Municipal Auditorium)
July 15: San Antonio, TX (Majestic Theatre)
July 16: Corpus Christi, TX (Selena Auditorium)
July 18: Little Rock, AR (Robinson Center Music Hall)
July 19: Tulsa, OK (BOK Center)
July 20: Enid, OK (Center National Bank Event Center)
July 21: Springfield, MO (Juanita K Hammons)
July 22: St. Louis, MO (Peabody Opera House)
July 23: Milwaukee, WI (Riverside Theater)
July 25: Peoria, IL (Peoria Civic)
July 26: Akron, OH (Akron Civic Center)
July 27: Grand Rapids, MI (Devos PAC)
July 28: Detroit, MI (Fox Theater)
July 29: Merrilville, IN (Star Plaza Theater)
July 30: Minneapolis, MN (State Theater)
Aug. 1: Omaha, NE (Ralston Arena)
Aug. 2: Kansas City, MO (Midland)
Aug. 3: Salina, KS (Bicentennial)
Aug. 4: Denver, CO (Bellco)
Aug. 5: Salt Lake City, UT (Kingsbury Hall)
Aug. 6: Las Vegas, NV (Orleans Arena)
Aug. 8: Tucson, AZ (Tucson Music Hall)
Aug. 9: San Diego, CA (San Diego Civic)
Aug. 10: Long Beach, CA (Terrace Theater)
Aug. 11: Oakland, CA (Paramount)
Aug. 12: Reno, NV (Grand Sierra)
Aug. 13: Fresno, CA (Saroyan)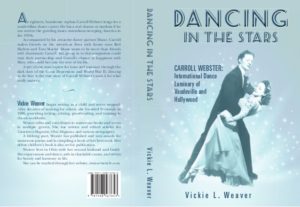 Today's ballroom pros have many advantages over what my father and other pros had in the 1930s/40s: many more opportunities, easy/fast networking, faster travel, etc. Without those pluses, a lot could go wrong. You can learn much more while enjoying the biography I wrote, "Dancing in the Stars—Carroll Webster, International Dance Luminary of Vaudeville & Hollywood." This easy read in larger type is a compelling and inspirational story of dance, romance, mystery, history, and entertainment. I would be honored for you to read and comment on it.
To get an autographed copy in the USA for only $15 (INCLUDING shipping!) please go through our BBB-Accredited Web site www.writestyle.com to PayPal and then e-mail me at writestyle@mindspring.com; include that you're my DWTS blog fan, Code 1252, and your complete postal address [no PO boxes])—BOTH BY MIDNIGHT JUNE 26, 2017. 
We'll send your book to you within a week (you should receive within two weeks of your request). Enjoy!
I will offer this special price periodically for loyal DWTS/blog fans. (Regularly $18.95 + $4 shipping = save $4-$10).
Stay tuned.

Writing has been an important talent and part of my life since I was a child.Professionally, after decades of employment for others, I founded Writestyle in 1996 to provide writing, editing, proofreading, training, and more to clients worldwide (www.writestyle.com).Clients often call my work "magic."I have written and/or edited for "Coexistence Magazine" (national), for "Ohio Magazine," and for various newspapers.In addition, I have edited or contributed to the writing of numerous books.Personally, I have written in various genres.I have always composed poetry; as such, I have won awards and publication for some of my poems, and I am compiling a book of my poetry.One of my children's books is set for publication.With my second husband, family and friends in Ohio, I enjoy music and dance, aid charitable causes, and strive for beauty and harmony in life.

Latest posts by Vickie L. Weaver (see all)